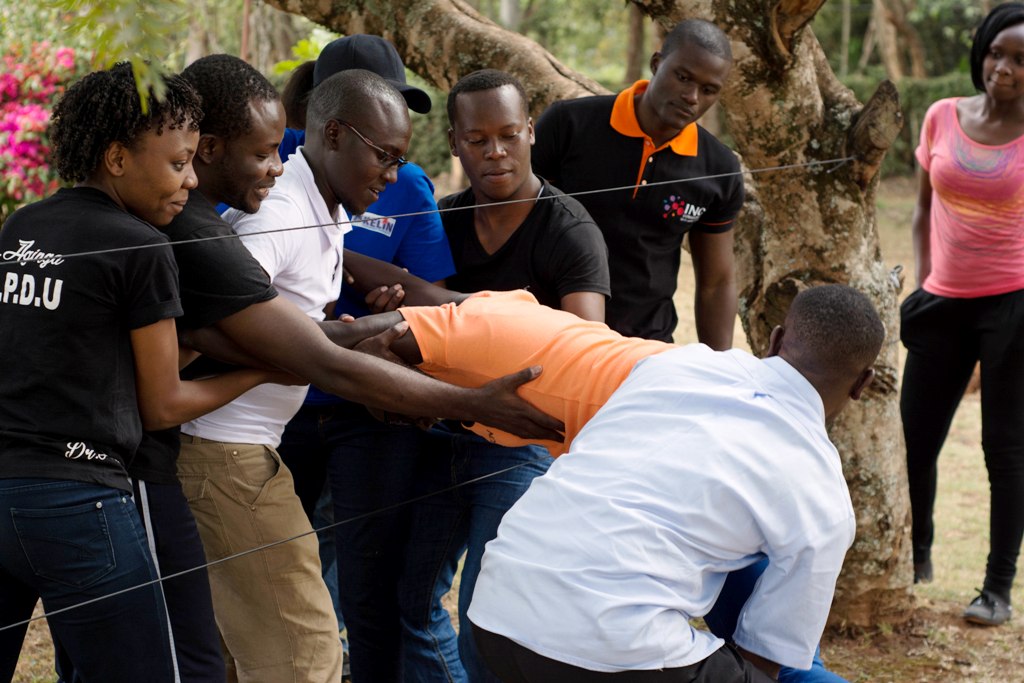 By
phistin
3 Days TRIP To shaba National park Famours for servivour series
You learn bushcraft activities,game drives,great accomodation at sarova shaba and full days of outdoor activites
The best team Building at Shaba and samburu park,The only activity for 3 days with game drive,
What is team building?
Team building is a way for organizations (employers) to encourage team members (employees) to interact and integrate individual skills and recourses into a unified effort. It is used to boost moral of a team and introduces team members to one another by having them interact outside of the normal work environment (comfort zone). Helps to build trust between members. Team building is fun and allows colleagues to see each other in a new light.
The most important objective for the whole event is to have fun, through this teams learn how to work together, communicate and build relationships. They will learn about each other's strengths and personalities.
ADVENTUROUS FUN INTERACTIVE
BUILDS MORAL OBJECTIVE/POINT
BUILDS TRUST STIMULATES CREATIVITYPROBLEM SOLVING
Team building games should be:
a) Quick to use (people do not bet bored).
b) Participative (delegates physically take part)
c) Props (realism)
d) Low risk (no adverse consequence)
e) Adaptable (can be modified to suit the needs of a client)
f) Goal (objective/focus)
g) Fun (vibe)
h) Not to be complicated
Introducing a game
Get their undivided attention
Solicit their cooperation
Give a brief explanation and background of the game
Demonstrate, but only share appropriate information
Give them a goal and time limit
Encourage them to interact
Be enthusiastic and encouraging
Remember this is meant to be fun for all, so create a vibe. Make people aware of safety hazards e.g. no pushing, don't jump there, etc.
Selecting games
a) You will need to get relevant information from the organizer such as:
Age groups
Health of delegate
Disabilities of delegate
Physical intensity (high, low, medium)
Always be ready for any situation.
b) Even if the course leader/organizer wants a high physical intensity course, have non-physical games ready. It is meant to be fun, so we want the blood to flow but we do not want delegates dropping dead or loosing interest because they are exhausted.
c) Use games to break up the monotony of a 2-hour game drive/walk.
d) Always have a back-up plan check for safety hazards.
e) Use games that are not complicated (easy to use and explain, use games you have field tested and are confident in presenting.
f) Use games that require more than one delegate from each team if possible. This encourages them to work together.
g) Explain to the team that different delegates should take part in the events; this should stop those that want to take part in every activity.
h) You will need to arrange your program using the information received from the organizer as to how strenuous they would like the event. However, most people will settle for a good mixture of the events.
Props
a) Each game needs props to create realism.
b) Make props that look ethnic/authentic and professional.
c) Make sure props are well maintained.
d) Look for ways to make props more authentic and look for new ideas.
e) Color props so that different teams can identify what is theirs and this will limit confusion between the teams.
f) Use face paints/bandannas to clearly identify the different teams and members.
Games
Icebreakers – War cry
– Dance
– Team name
– Team identity (face painting)
– Beetle juice
Passive games – Tribal tangle
– Survival moves (chess)
– On the spot
– Sheep herding
– Choose your weapon
– Sheep Hearding
– Puzzled
– Game drive treasure hunt
– Shelter building
– Raft building
Active – Cannibal and Missionaries
– Tribal hunt
– Fire making
– Torched
– Barrel of fun
– Rescue mission
– Maji machafu
– The web
– Mud challenge (osha ndovu)
– Head to head
– Ski race
– Obstacle course
– Mountain climb
– River crossing
We tailor and design to match all your needs.
1 Team Building Ideas That Work . . .
(fact) : Team Building and Motivation are best achieved through organized fun events rather than adversity.
*With regard to pricing, all team building events will be subject to the following criteria:
Total numbers
Location
Duration of the event
Adventure Corporate incentive groups in Kenya